Game-Based Training
Gain a Better Understanding of Your Own Business and How You Impact the Overall Performance of Your Organization
What is Business Acumen and why do I need it?
Business Acumen is a term used to describe "the keenness and quickness in understanding and dealing with a business situation in a manner that is likely to lead to a positive outcome". And wouldn't it be great if you, as a sales professional, were to be described as having a deep level of business acumen?
Our Business Acumen sales training comprises of 3 areas: Commercial acumen, Financial acumen, and Strategic acumen. Sounds rather boring right? When you're learning these concepts while playing a highly competitive, interactive and realistic business acumen simulation designed for sales professionals, it is NOT boring.
After this 1-day business acumen for sales professionals simulation, you will feel more comfortable talking to your customers about their business and how your product or service could improve their business performance to achieve their strategic goals.
How business acumen sales simulation training works
'Business Acumen Today' is a discovery learning experience that is centered around a board-based game. This sales training business acumen simulation allows teams of sales professionals to manage a simulated but realistic trading business, in competition with other teams. Each team and individual discover how the everyday business decisions that they make, shape the performance of their business and how that impacts future business dealings.
As decisions are made and consequences are played out during the simulation, the course facilitator constantly relates learning to the participants' reality ensuring that participants gain a greater understanding of their own business and how their individual efforts contribute towards the overall success of their organization.
The Business Acumen sales simulation allows various strategic and operational business decisions, such as the scale of operation to manage, which customer segments to target, desired product mix, optimal procurement, how many employees should be hired/trained, and what margin they need to achieve to cover costs.
The simulation runs over 3 to 4 repetitive business cycles. Participants complete simple financial statements between cycles and analyze their results. Their performance is then benchmarked against the other teams, allowing them to learn from their own and others' mistakes.
The Sales Coaching Institute provides an outstanding product coupled with elite facilitators allows us to give the best business acumen for sales professionals available today.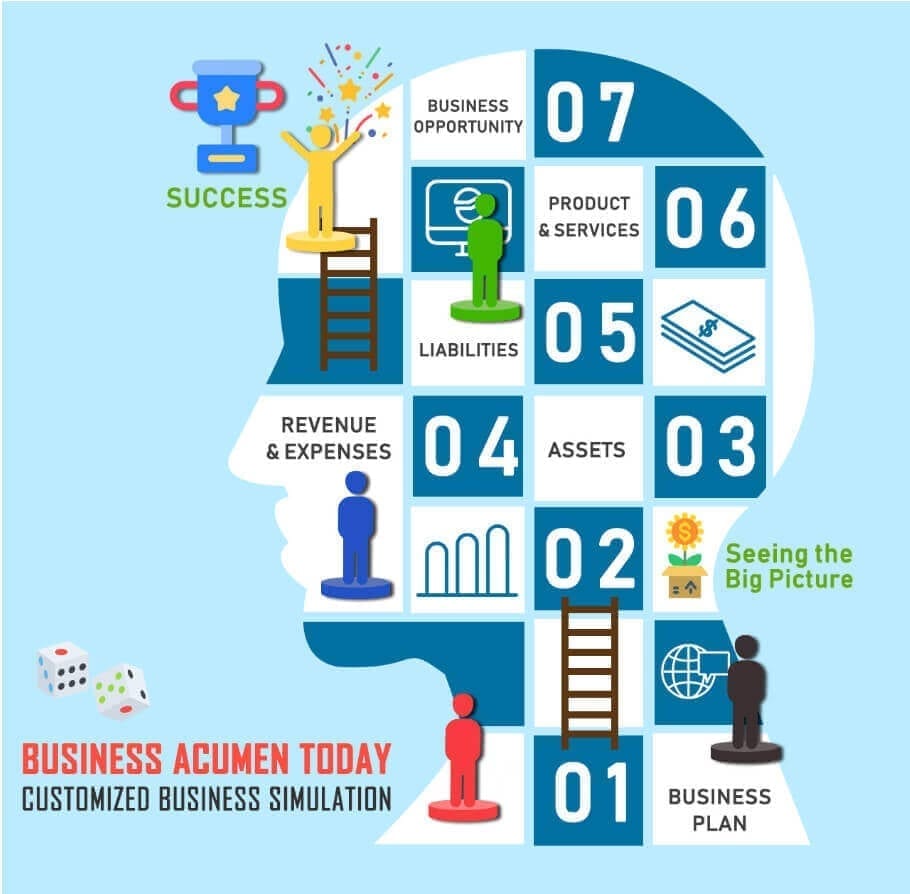 What Sales Professionals Gain During the Training
Commercial Acumen
A gut-level understanding of your organization's Value Chain and the critical business drivers, which can be leveraged to achieve maximum Stakeholder Value.
Experiencing and understanding the interdependence of the sales department, production, and procurement.
Understanding the trade-offs, whilst making decisions around marketing, penetration, pricing, sales mix and calculating the effects on margins.
Experiencing why managing working capital is crucial to business performance.
The importance of accurate forecasting as the whole business aligns its plans accordingly.
Understanding why it is important to focus time and effort on product mix in proportion to gross margin, and not just ease of sale.
Evaluating customer service and its impact on profitability.
Analyzing debtors and bad debt, and the necessity of assessing which customers are high risk and what damage they can cause to cash flow and profits.
Making and implementing decisions by assessing the results, in terms of cross-functional dependencies, allocation of limited resources, competitor activity and business performance, within the broader business context.
Financial Acumen for Sales Professionals
An understanding of financial business reports, being able to interpret them and knowing how to impact on them.

Calculating and analyzing gross and net margins – by product, region, and customer.

Understanding how cash flows through the business and how to manage cash flow.

Develop a working knowledge of different financial ratios to be used to measure various aspects of performance.
Start Your Game-Based Training Today
Business acumen sales training should never be boring. This is the training that ties together all of your skills and knowledge to turn you into an unstoppable force that closes sales when others fail. Our business acumen sales simulation game was designed and assembled by business and sales thought leaders.
This is the best business acumen sales training simulation game designed to engage, entertain and train the brain to utilize and amass your knowledge in the most efficient and effective way. Your ability to calculate margins on deals, articulate value, assemble team meetings, strategize and perform every other task necessary to close a profitable sale will improve by participating in a 1-2 day interactive course.